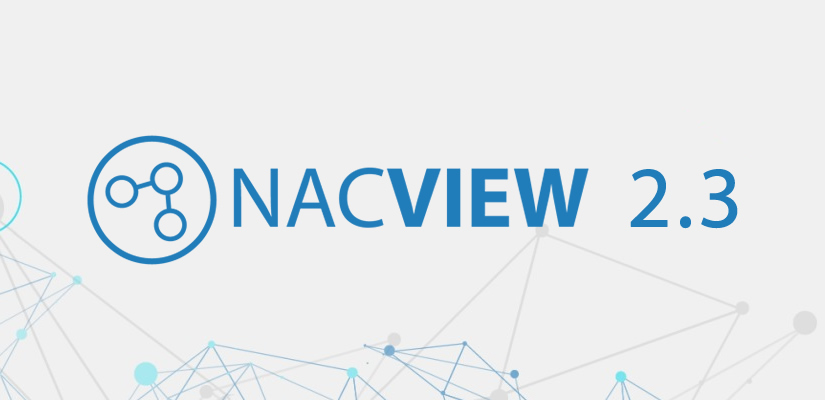 NACVIEW system 2.3 version is mainly the development of current functionalities, the extension of integration with new products and the expansion of available statistics and reports. Furthermore, the new release is the beginning of a new direction in system development, in which multi-level automation will play a key role. Automation will not only save your time by reacting instantly to specific events but also plan your future actions.
A better understanding of the company network with the new dashboard
The new version of the system is primarily a redesigned and more transparent dashboard with many important information and reports in sight.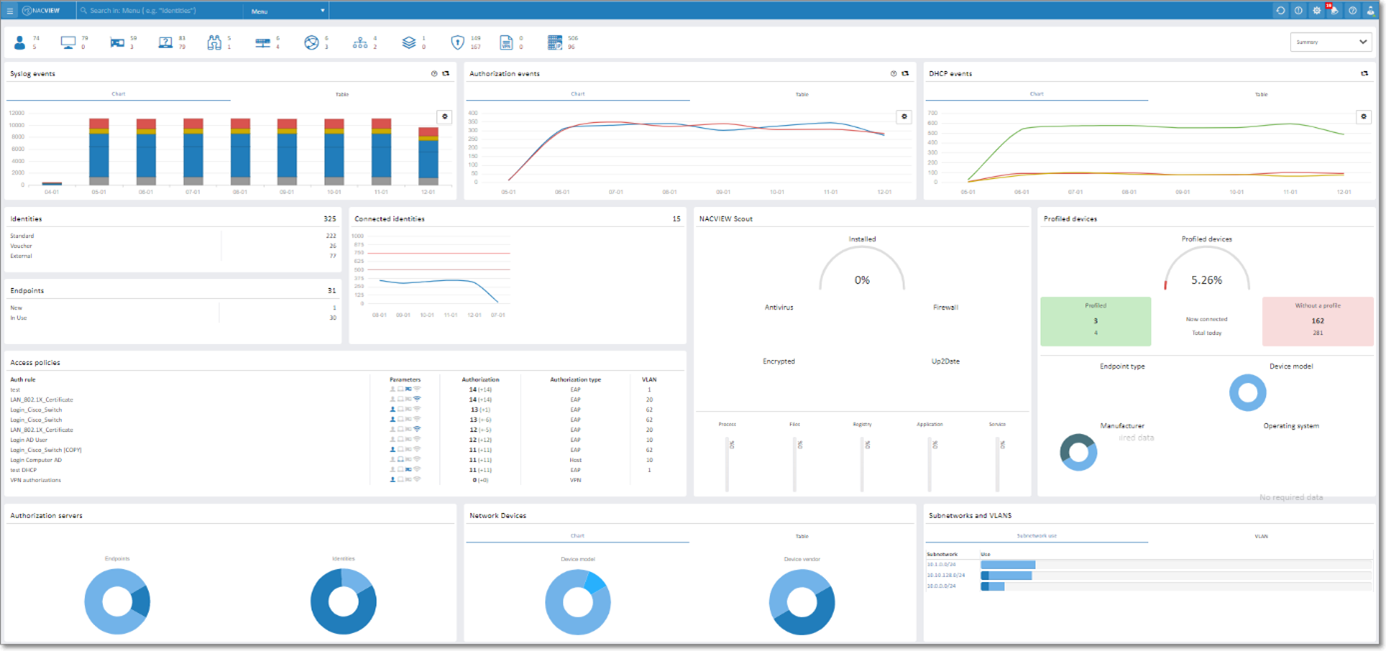 Refreshed graphs, charts and new previews added to easily find out what is happening on the company network.
At any time, it is possible to check the number of currently connected devices and logged on users in the network. It is possible to obtain from profiling additional device details such as type, model, or vendor, and to evaluate their overall safety level thanks to the statistics from the NACVIEW Scout application.
General authorization events, DHCP and syslog events are displayed in charts, and their details are available in lists. It is also possible to monitor the load on subnets, VLANs and the use of network devices, thanks to which the knowledge of what is happening in the network will be more complete.
The preview of top 10 allows you to view the most frequently recurring events according to selected criteria, thanks to which you can monitor trends in the network systematically.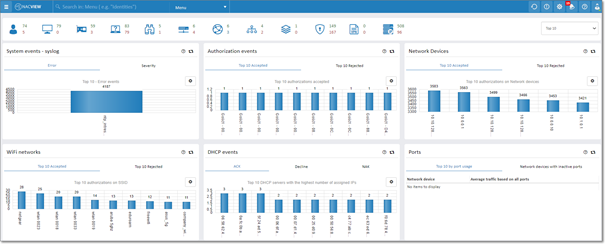 Development towards automation
Automated system operations and network security mechanisms is a future topic that will simplify the daily management of a corporate network. The NACVIEW system is also evolving towards automation. First of all, it is the activation of automation rules to manage the system, such as running system commands according to the indicated time schedules, e.g. enable/disable selected PoE ports.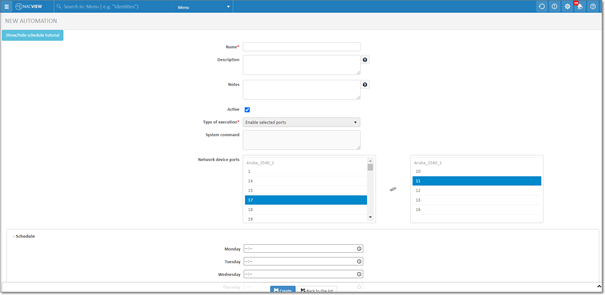 It is also automatic parameter cloning for new network devices:
settings,
ports names,
dissconection methods,
credencials.

Extensive Captive Portal
Captive Portal is a very convenient method not only for logging into the network but also for registering user endpoints. In the new version of the system, many additions were introduced to extend the functionalities of CP.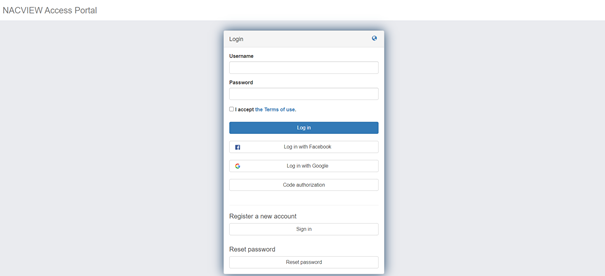 Built-in CP password reset and domain password reset mechanism - so each user can get a new password without involving the IT department.

Possibility to manage devices, thanks to which, for example, an authorized employee can register a private device via CP. The registered device may require a confirmation from the administrator before authorization to the network. Moreover, the limit of registered devices can be freely set by the administrator.
In addition, an option for users to view the network authorization history has been added.
There is also a possibility of two-factor authentication to the network using the NACVIEW Authenticator or Google Authenticator application.
Other news and improvements to existing functionalities
Ability to create graphical diagrams of the location of nodes, ports and sockets for network devices.
Icon indicating the percentage security level of a network device for quick verification of correct device protection.
Added VLAN load chart showing the percentage and number of logged devices in individual subnets based on authorization and monitoring data.
Information about the PoE port status has been added to network devices.
New reports for OTP, DNS, AD have been added.
A new Connections management module has been added to quickly bind information related to IP addresses, MAC addresses, Endpoints and Identities. The created bindings facilitate navigation between system modules, e.g. from the Identities view, we can quickly go to the assigned Endpoints. Bindings can also be used for the static assignment of IP addresses and verification of the assigned MAC addresses.
New module with extensive DNS management.
Multiple Domains (Active Directory) and Multiple PKI support - can be deployed in environments with multiple completely independent domains and in environments that support multiple PKI.
RADIUS authentication server for administrator authentication.
New profiling methods have been added: RADIUS, DHCP SPAN, Cisco device sensor.
ACL change function for MAC address using CoA has been added.
Different methods of endpoint synchronization and profiling have been added in Integration servers.
Possibility to manually change the VLAN number of the logged in person by the administrator.
Forced reauthentication mechanism, VLAN / subnet change mechanism has been added.
The ability to manage the complexity of administrator passwords has been added.
The Captcha security mechanism has been added after three incorrect logins to the system or via CP.
In addition, new integrations with external systems have been added:
FAMOC.
ServiceNow.
FortiGate.
SCEP protocol support for Microsoft PKI.
CheckPoint –  information for profiling, OTP support for VPN, integration with the NGFW system.
Palo Alto Networks – an extension of system support via API, support for Syslog and SNMP.

Follow our social media and stay up to date with new functionalities.